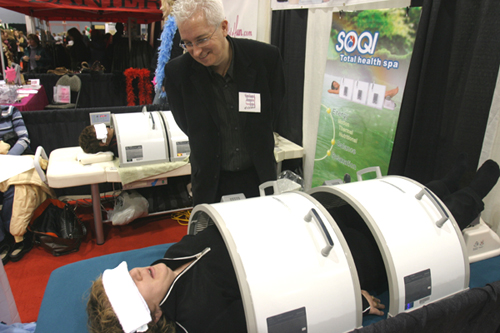 Steve Daoust - Chi Machine Canada, is explaining the benefits of the SOQI Technique.
Chi Machine Testimonial
In Aug/2009 I had to have disc decompression surgery. There were complications during the surgery and the blood supply was cut off to my spine.
It left me with (L) side hemiplegia(1) and (R) side decrease sensory dysfunction(2)(3).
When I use the Chi Machine it temporarily reduces the burning pain while waiting for the medication to kick in. Therefore, it helps reduce the break through pain(4).
I feel that the Chi Machine also helps to distribute the medication throughout the body faster due to the fact that it helps with the circulation, when I take my pill medication and use the Chi Machine simultaneously; it seems to act the same as if having the medication by injection.
I am very grateful to have the Chi Machine as it has been a big part of my process towards a hopeful good recovery.
Without the Chi Machine I am sure I would not be as comfortable as I am now in between my medication times. At nights when I go to bed after I take my medication I am hours getting comfortable and being able to fall asleep, but when I take my medication and get on the Chi Machine I am able to fall asleep a lot faster.
There are some days when nothing else seems to work with my pain and burning until I get on my Chi Machine. Therefore I have highly recommended it to people I have met in the rehab in Halifax that has had strokes and spinal cord injuries. I can only hope they get as much relief from their pain as I do with my Chi Machine. The Chi Machine has been a great tool in my recovery.
Sincerely,
Bev Beaton
Truro, NS
Hemiplegia is when one side of the body is paralyzed.
Decrease sensory dysfunction is the inability to feel any sensation (i.e.) hot/cold, sharp or dull pain
Hemiplegia and sensory dysfunctions are neurological disorders
Break through pain is when pain occurs before it is time to take the next dose of pain medication.
Return to Chi Machine's Control Panel
Scoliosis sufferer from Winnipeg
This is an amazing machine. I would recommend it to anyone. After the first use of two minutes I woke the next morning with absolutely no back pain. I have a herrington rod in my spine for scoliosis. Again, this is amazing.
Wanda Crackle
Return to Chi Machine's Control Panel
Chi Treatment
Hi Steve,
I am a trucker, and over 1 year ago, fell and injured the nerves in my neck and arm. Added to previous lower back damage, I am in various degrees of pain/discomfort constantly.
I wanted to tell you how wonderful and effective I found the Chi treatment that I received at a recent expostion.
It is an amazing concept, and positive effects truly result from just one treatment.
Thanks for introducing me to this.
Art Jones
Riverview, NB
Return to Chi Machine's Control Panel
In Health & Happiness
I feel like I've been blessed and guided along my path.
I had the pleasure of having Ruth Link and Steve Daoust come to my clinic and share some very enlightening information on October 24, 2008. During this visit, I had the opportunity to experience a full 1 hour treatment with the Chi machine, Far Infrared Sauna combined with Ruth's amazing healing Reiki hands.
As a Registered Massage Therapist, Reiki Master/Teacher and Holistic Health Practitioner, I knew right away I needed to work with these products in my clinic so my clients could receive the same feeling of such a complete healing.
I felt, after and during the treatment, all my systems come into balance, the musculoskeletal system coming out of chronic imbalanced holding pattern, my circulatory system tingling as the oxygen reached places that have been compromised and my nervous system going from the fight & flight go-go-go mode to a very relaxed and energized state.
Steve and Ruth have allowed me, since that visit, to have the use of the CHI Machine and FAR Infrared Sauna so that I may introduce these products to my clients.
I've had incredible results with my clients in the very short time I've had these devices in my clinic.
I would like to mention first, on a personal note, I use the systems on myself at the beginning and end of each work day and feel great instead of drained.
These products have allowed me to work smarter not harder. Statistics state that the average burn out rate for Massage Therapists is 5 years. I'm heading into my 8th year and recently had been thinking that I might do massage only part time and work part time at my previous profession. No longer do I feel this way. After these past weeks using the Chi Machine and Far Infrared Sauna, I have reduced my "hands-on" time with my clients because these products relax and make the clients muscles more pliable. I do not have to work harder/deeper and the client is enjoying the lighter/easier release of their tight muscles and I am not feeling the usual strain on my own body.
With having only one treatment my clients having various conditions such as: herniated discs, chronic pain, IBS, repetitive strain syndrome, muscular and skeletal imbalances, neurological conditions, are noticing positive results. So much that they are asking about purchasing these products for in home use. Because of this feedback, I have decided to become a distributor. It is so easy to share products that give instant results, the machines are selling themselves.
I am excited and now feel I am able to continue working and living my passion, helping heal people while ensuring a good living for myself.
If you would like to contact me and speak with me directly about the benefits I and my clients are experiencing, please feel free to contact me at metzlerd@eastlink.ca.
In Health & Happiness
Denise Metzler, RMT HHP
Truro, Nova Scotia
November 5, 2008
Return to Chi Machine's Control Panel
Fibromyalgia
"I have fibromyalgia, diabetes, seasonal and environmental allergies, and osteoarthritis in both my knees.
Initially, even though I had all these health conditions, I had no interest in trying these health devices but was convinced by my husband to give it a try. During the 14-day trial period I experienced more energy, my blood sugar levels had decreased a little and I was sleeping better. We knew that we had to keep these products.
Approximately four months later, the fibromyalgia still exists but the products made my life more manageable in providing temporary relief from the muscles aches and pains. As a diabetic, I had neuropathy in both feet, but now the feeling is back. The arthritis in my knees prevails but I can walk 4 km per day, comfortably. I feel like I have my life back.
My husband, George, has had trouble sleeping through the night for years. Since using the Chi machine he now sleeps restfully and no longer takes a power nap after supper.
In May 2006 we purchased the Chi Machine, Far Infrared Hothouse and Electro Reflex Energizer and discovered that these Medical Devices will never leave our house.
Patrica Kilburn
Fredricton, New Brunswick
Return to Chi Machine's Control Panel
Weight Loss Testimonial
Weight loss has always been a struggle for me. My main problem is staying committed to an exercise program. A while ago I was introduced to the Sun Ancon Chi Machine which provides the equivalent of a 40 minute aerobic workout (in oxygen) in a 10 minute session on the machine. I have a bad back and very painful hips and knees so this was good news to me. All I have to do is to lay on the floor, breath deeply and let my chi machine give me an invigorating massage! I am pleased to tell everyone that after one month I have lost 20 pounds! I use the Chi Machine for 10 minutes twice a day and make sure that I drink a full glass of water before and after using the machines. I also watch what I am eating and do not eat anything after 7:00 p.m. I have been doing this for a month now and will continue to do so. I now want to work my way up to 20 minute sessions so that I can balance my pH. The joy is that I am not straining my knees, hips and back. Thank You HTE for the Sun Ancon Chi Machine.
Paulette Burley
Thunder Bay, Ontario, Canada
Return to Chi Machine's Control Panel
Long Term Disability
My husband and I have been using the E-Power for almost a month and we want to share how excited we are about this product. I have been on anti-depressants for nine years and was placed on Long Term Disability as it was so severe. After many attempts to get off of them, I have finally succeeded with the help of the E-Power. I am now down to less than half of the dose and continue to cut down slowly. The other machines helped for short periods of time but inevitably something would trigger an episode of depression. I believe that the chemical dependency was stored at a cellular level and was finally released through the work of the E-Power. The cool thing is that my whole attitude has improved and I find joy all around me. And as a bonus - my skin has improved dramatically. I had a terrible "chicken neck" - the kind that comes with aging - and lines around my mouth from previous years of being a smoker. My friends are asking me what I am doing to look so great and my husband and I both notice a great improvement in our skin. Our daughter uses her E-Power as well and she is totally hooked on how much better she sleeps and feels. Her stretch marks have almost disappeared and she finds that she simply copes better and feels happier.
We are thankful to HTE for introducing us to this amazing product!
Joan Beckingham
Thunder Bay, Ontario